Oil Tank Maintenance Services
How it works
Call or email us
Tell us about your oil tank
Tell us your location
You'll get a FREE estimate and we'll schedule your tank maintenance immediately (within a few days of your call)
We take care of the all the details!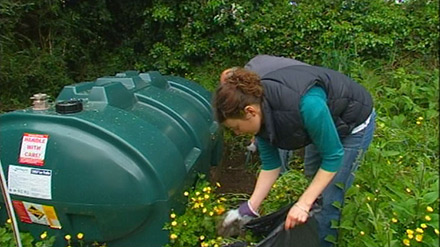 Our consummate professionals and experienced technicians are always ready to take your call and offer the best advice possible. In fact, more often than not, you'll speak directly to Jay Holmes, our hands on owner. We have seen it all, having been in this industry since 1939, and we always strive to help you make the right decision for your home or business.
Whether you are purchasing or selling a home or business that is currently using oil heat, you are converting a building to a different type of heat source or you simply have an old tank that needs to be evaluated, we can make you aware of your options.
If you currently have an old tank (interior or exterior, above or below ground), we can inspect the tank and let you know whether it needs to be replaced or simply needs maintenance. We can explain how tank malfunctions can affect the value of your home and your liability as a home owner. (Many homeowners are unaware that they can be held liable for accidental spills and soil contamination.)
In the event that you need a new tank, we will provide you with a reasonable price estimate and schedule an appointment right away. We can remove your old tank and have its state-of-the-art replacement installed as quickly as possible.
Perhaps your tank simply needs maintenance. We will run new lines from your tank to your oil burner if your old lines are worn and in danger of failing.